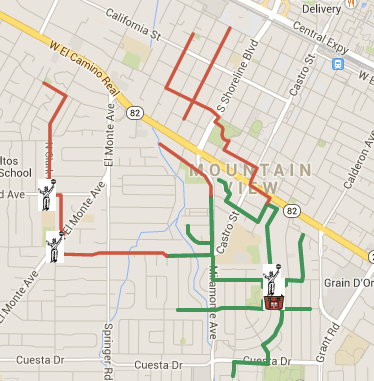 Getting more of our children to walk and bike to school improves child and community health, benefits the environment by reducing automobile emissions, and decreases traffic congestion around schools. To support these efforts, Safe Moves, in partnership with the City of Mountain View and supported by a grant from VERBS  (Santa Clara County's Vehicle Emissions Reductions Based at Schools program), created these Recommended Routes to School maps for public schools attended by Mountain View residents. To create the maps Safe Moves walked and biked every possible route to school.
Please check your child's recommended route to school and leave a comment with your suggestions for how to improve safety or send us an email. When using the maps, note that green lines are recommended routes that are less than .5 miles long.  Red lines are routes that are more than .5 miles long.
Elementary Schools
Middle Schools
High Schools
---
Los Altos Schools
Los Altos has also developed Suggested Routes to School including maps for Almond, Egan, Blach, Covington, Loyola, Oak, Montclaire, Bullis, Springer, and Santa Rita. Maps include routes within Los Altos borders.