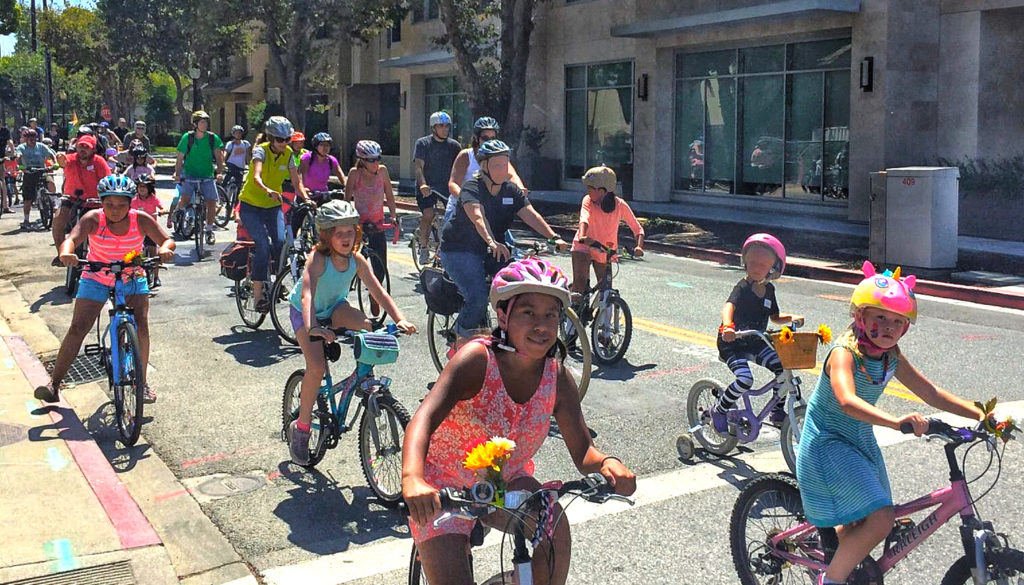 It was great to see so many families join us for the 3rd Annual Mountain View Family Bike Ride on Saturday!  149 riders joined us, our biggest Family Bike Ride crowd yet.
We gathered in Eagle Park at 10am under a beautiful blue sky. After signing-in, riders socialized, chatted with Nate Baird our Mountain View Bike Coordinator, and explored the family activities including bike decorating, face painting, helmet fitting, and bike tune-ups.
Before the ride Cherie Walkowiak and John Scarboro gave a short safety talk demonstrating hand signals, providing instructions for how to ride safely in "bike bus" groups during the ride, and introduced our Ride Guides (modeling the latest in helmet fashions designed by our very own Jessica Hirschfelder) who would help direct the group through the route.
With John setting the pace as our Ride Leader, we set off!  We followed the route through the Shoreline West neighborhood and Mariposa Park and then back through Downtown to connect to Stevens Creek Trail and Landels School before making our way back to Eagle Park. Altogether the route was 3.6 miles. Our faithful Ride Sweep Dick Kiser brought up the rear. Back at Eagle Park, volunteer Jennifer Sumant furiously scooped out the free ice cream cones to meet the demand of our hungry riders!  Some families picnicked on the grass while the young riders lined up to grind their own smoothie on Safe Moves' bike blender!
Thanks so much to Silicon Valley Bicycle Coalition for providing insurance for the event, Baskin Robbins for donating ice cream, Cognition Cyclery for providing tune-ups, Maylyn Co the Injury Prevention Coordinator from Stanford Health Care for helmet fitting, and Safe Moves for bringing the bike blender.
The 2017 Family Bike Ride was brought to you by Great Streets Mountain View and Safe Mountain View, two local non-profit organizations dedicated to making biking and walking safer and more pleasant in our community. We hope the Family Bike Ride promotes enthusiasm for biking and raises awareness of how the community can get involved with promoting the safety and comfort of our biking environment.
Consider telling your city council members about your interest in biking with your family and the importance of safe streets for people of all ages. You have power at the local level and your voice counts. This is a positive thing and you may even find making your city better is fun. If you would like to stay informed about the plans for cycling improvements as well our future rides and events, please subscribe to our Newsletter or follow us on Facebook. If you'd like to get directly involved now, you can email Mountain View City Council at citycouncil@mountainview.gov. We can all do our part to make the future better!